Have you ever wished there was a simple way to track custom click events for your conversion pixels right within your WordPress dashboard? Or perhaps you've been longing for an additional pixel integration to track even more events across your marketing platforms?
With WPCode's Conversion Pixels addon 1.1.0, your wishes are now a reality! Keep track of all your essential marketing data seamlessly within WordPress with our newly introduced features.
Easy Tracking of Custom Click Events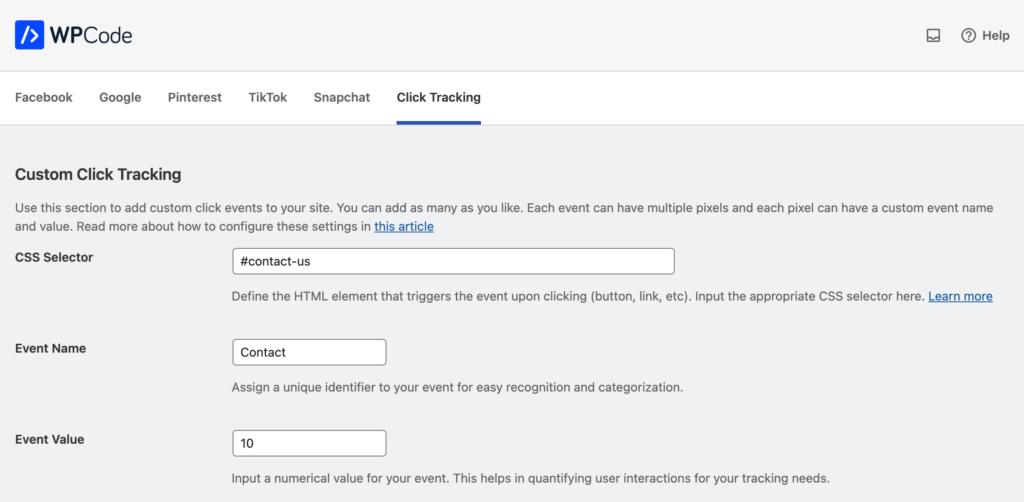 Ever wondered what triggers most engagements on your site? Is it that catchy button on your homepage or maybe the exciting hyperlink in your blog post?
Well, with the new WPCode Conversion Pixels addon, you can track custom click events with any or all of the pixels you've set up on your site. Simply specify the CSS selector of the button or link you want to track, add the event label and value, and choose which pixels you wish to send this event to.
For those using Google Ads pixels, we've simplified the process further. You can effortlessly track clicks as conversions and specify a conversion label, providing you a clear picture of what strategies work best.
This allows you to effortlessly track events for when a form is submitted, a phone number is clicked on your mobile site or a feature on your site is used.
And, because you can also choose to use Standard Events specific to each pixel you don't need a complicated setup in your advertising dashboard – use a Standard Event and let the platform take care of reporting. Learn more about how to set that up here.
Snapchat Pixel Integration – A New Addition

Already providing support for Facebook, Google, Pinterest, and TikTok, we've now broadened our horizon with a brand-new pixel integration: Snapchat!
Track events seamlessly using the Snap Pixel and Snapchat conversions API, providing you with all the insights you need to perfect your marketing strategy.
The Snapchat pixel comes with the full power of the WPCode Conversion Pixels addon which includes advanced eCommerce tracking for popular platforms such as WooCommerce, Easy Digital Downloads or MemberPress. And, of course, you can use the new Snap Pixel integration with the Custom Click events.
Enhanced Optimization & Developer-Friendly Filters
And that's not all! For all of our users who are looking to customize their event tracking and the data sent to the pixel – we made it easier than ever to do just that.
We optimized the plugin code and added developer-friendly filters which anybody can use to add Code Snippets in WPCode and change any of the default events added by WPCode. You can go a step further and also customize the data from your eCommerce platform, by adding specific filters to change the details that the eCommerce plugins send to your pixels.
We're thrilled about these new enhancements and we can't wait for you to experience them. Remember, with the Conversion Pixels addon by WPCode, you're in full control of tracking your site's engagements.
Ready to get started?
We updated our documentation to make it even easier to get setup with the Conversion Pixels addon right now.
As always, if you run into any issues or have any questions, don't hesitate to reach out to our support team. We're always here to help!
Mircea Sandu
Lead Developer, WPCode