Today, I am delighted to announce the launch of public profiles for snippet authors on the WPCode snippet library. I believe this new feature will help build a stronger sense of community on the platform, and allow users to discover and connect with other talented snippet authors.
With public profiles, you can add a short bio, your position, location, and social media URLs to your profile page on the WPCode library website. This means that users can learn more about the people behind the code snippets and connect with you on social media. It will also help potential clients or employers discover your profile and see how talented you are from the public snippets you already added in the library.
Creating your public profile is a breeze – simply log in to your WPCode account and click on the "Edit Profile" button in the new top-right header menu. From there, you can fill out your profile information, upload a profile picture, and add links to your social media accounts.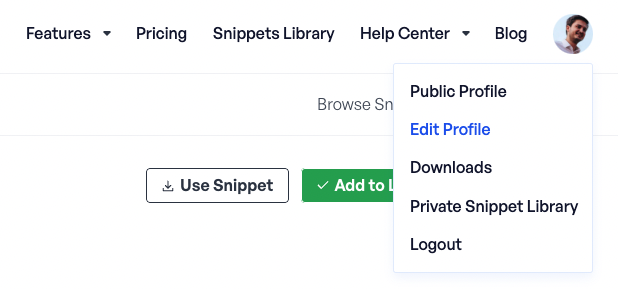 But that's not all – we've also introduced a PRO version of the public profile feature. For just $5 per month (paid annually), you can upgrade your profile to stand out from the crowd and showcase your skills. The PRO version lets you add a direct link to your site or portfolio, and includes additional customization options to make your profile unique.

As developers ourselves, we understand the importance of building a personal brand and showcasing our skills. That's why we've introduced this feature to help you do just that. So why not create your public profile today and show off your skills to the world?
If you have any questions or feedback about this new feature, please don't hesitate to contact us. We're always happy to hear from our users.
Yours Truly,
Mircea Sandu
Lead Developer, WPCode