I'm thrilled to announce that WPCode 2.0.8 is now available, and it includes a new feature that I'm excited to share with you: the ability to schedule when your code snippets are active.
With this feature, you can now control when your code snippets are active, by setting a start and end date, or by creating more advanced rules that determine when they should be displayed.
Why Schedule Matters
If you're managing a website with many code snippets, you know how important it is to keep them organized and up-to-date. Sometimes, you need to display a snippet for a limited time period, for example, during a sale or promotion. Other times, you may want to display a snippet only on specific days, or during a specific time of the day. That's where the Schedule feature comes in handy.
How to Use The Schedule Feature in WPCode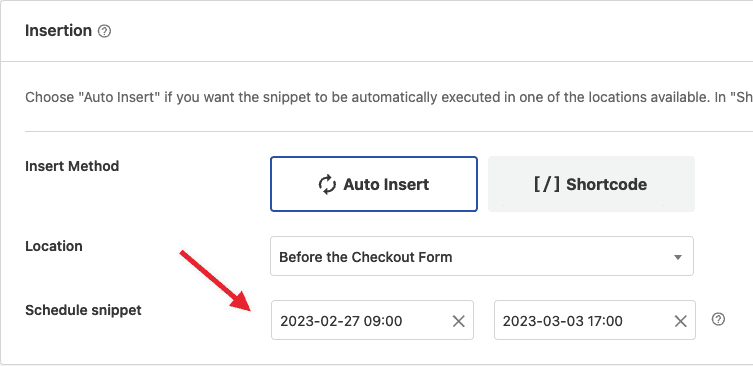 To start using the Schedule feature in WPCode, simply edit a snippet or create a new one. In the "Insertion" area, you will now find the new Schedule section. Here, you can set the start and end date for your snippet.
If you want to create more specific rules like those based on the time of day or the day of the week you can take advantage of the new Smart Conditional Logic options for scheduling. These allow you to create advanced rules based on the time of day, date or day of the week.
Combining these two approaches you will be able to target all of your scheduling needs.

Other Improvements in WPCode 2.0.8
In addition to the Schedule feature, WPCode 2.0.8 includes other improvements and bug fixes that make it more stable and reliable. We added a new option to allow you to log errors thrown by PHP snippets and view those logs directly inside the admin so you can debug your snippets more easily. We also made various improvements to the code editing experience and the overall accessibility of the snippet management area.
We're constantly working to make WPCode the best code snippet plugin for WordPress, and your feedback is always appreciated. Don't hesitate to reach out to our support team for any questions, we're here to make sure you get the most value out of WPCode.
Yours Truly,
Mircea Sandu
Lead Developer, WPCode