At WPCode we want to empower our users to manage their website effortlessly through code snippets and more. Today, we're raising the bar higher by introducing a game-changing capability: the ability to edit essential website configuration files right from your WordPress dashboard!
What's New?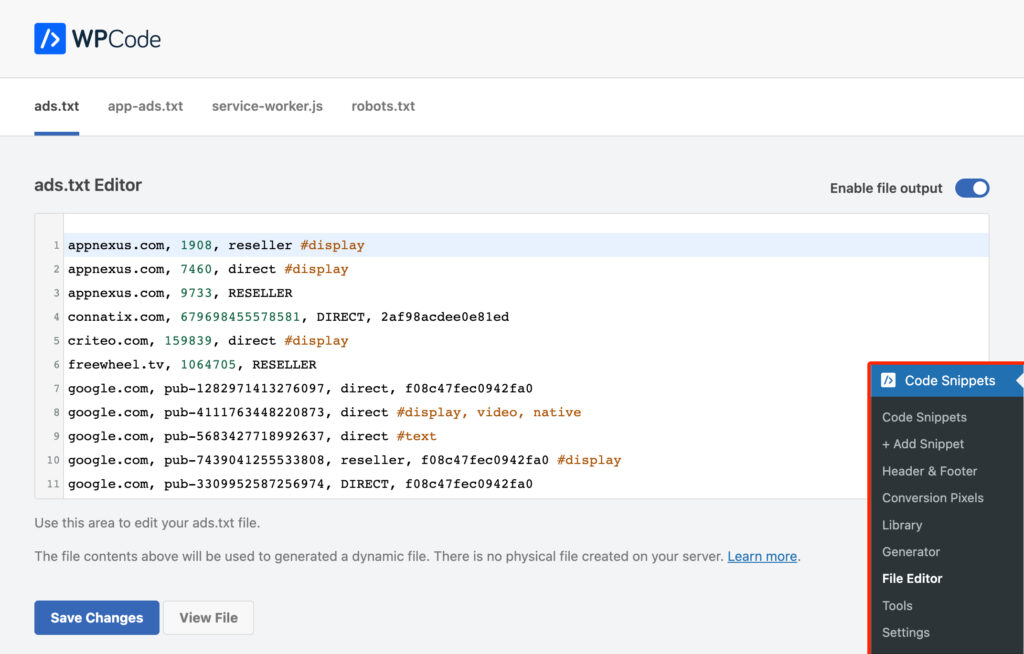 In our latest update (version 2.1.1), we've integrated a seamless file editing feature that lets you modify vital website configuration files directly from the comfort of your WordPress admin panel. No more dealing with FTP or worrying about theme or plugin updates affecting your changes. WPCode has your back!
WPCode now allows you to edit the following website configuration files from the comfort of your WordPress admin panel:
ads.txt: Keep your website's advertising partnerships up-to-date with ease. As your advertisers make changes, you can effortlessly update the ads.txt file through WPCode.
app-ads.txt: If you have a mobile app associated with your website, this feature will be a game-changer. Manage and modify the app-ads.txt file from the WordPress dashboard.
service-worker.js: Setting up push notifications on your website requires hosting a service-worker.js file. WPCode enables you to create and update this file, simplifying the process of implementing 1-step subscribe push notifications.
readme.txt: WPCode empowers you to append the generated readme.txt file produced by WordPress. This offers a unique advantage, especially if your SEO plugin doesn't include a built-in feature to quickly edit the robots.txt file.
Editing these files within the WordPress dashboard can enhance security by reducing the need for direct server access, and it ensures compatibility with the WordPress environment.
Error Reduction with Syntax Validation

We also included syntax validation for each type of file to help you reduce errors and minimize the risk of issues caused by typos or invalid formats.
Since WPCode is focused on enabling you to edit code your changes are always saved and you have full control over your files but the plugin will display syntax errors if it finds any.
In the case of the service-worker.js file you get full JavaScript validation similar to when you are editing a JavaScript snippet inside WordPress.
Centralized Management
WPCode centralizes all code snippets and configuration files in one plugin, simplifying management and organization for website administrators. This means you can use WPCode to implement ads on your site, track conversions if you are running ad campaigns and now you can also manage essential configuration files like ads.txt.
Get Started Today!
I'm thrilled to see how this new feature will empower you all to take control of your website configuration like never before. We're committed to continuously improving your experience with WPCode.
Our dedicated support team is here to assist you with any questions or issues you might encounter.
Yours truly,
Mircea Sandu
Lead Developer, WPCode