Have you ever wanted to enable other users on your website to manage WPCode snippets but didn't want to give them full access to the plugin?
Good news! You can do exactly that starting with our latest update in which we added Access Control settings to WPCode.
What's Access Control All About?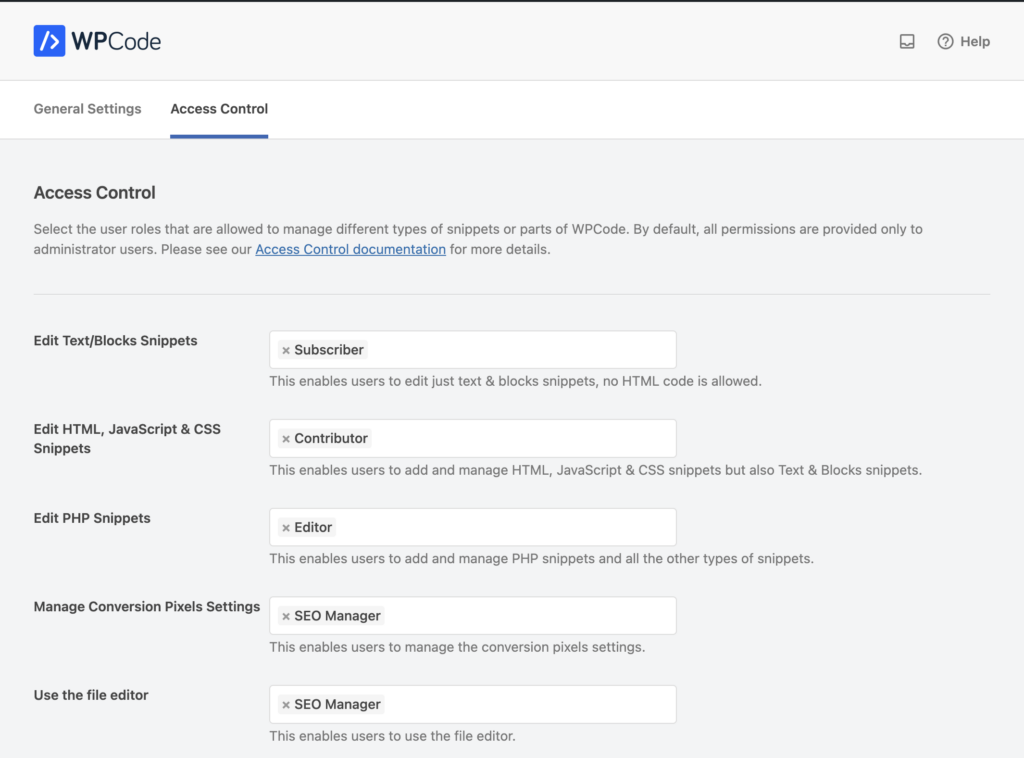 Access Control expands how you interact with your code snippets and configurations. Whether you're a developer or a website owner, access control allows you to enable other users to manage parts of your site so that you can focus on other tasks.
With Access Control, you can define specific permissions for different code types: Text/Blocks, HTML/JS/CSS, and PHP snippets. Tailor permissions based on user roles, ensuring your team members have exactly the right level of access they need.
Unlock New Possibilities
Access Control is not just about snippets. You can now selectively grant permissions for updating Conversion Pixels settings or utilizing the File Editor. Customizing your site just got more intuitive and secure.
You can now enable an ad manager to set up all the details from adding scripts to the site to configuring conversion pixels and updating the ads.txt file for your site from WPCode without giving them access to PHP snippets or other parts of your site admin.
Control PHP Snippets

That's not all – we also added a way for you to disable PHP snippets completely. That means nobody can add or edit PHP snippets and existing snippets are no longer executed. This enables you to use WPCode to enhance your site while preventing anybody else from adding PHP code from the admin.
You can go as far as to prevent administrator users from managing PHP snippets by using the WPCODE_DISABLE_PHP PHP constant that we added to the plugin before anybody even logs in to the site.
WPCode's Access Control is your gateway to smarter collaboration and safer customization. We're here to support you as you explore this new horizon.
Yours Truly,
Mircea Sandu
Lead Developer, WPCode