I'm thrilled to introduce the latest WPCode feature that will revolutionize your script and snippet management experience – the WPCode Admin Bar Code Spotter. With this powerful addition, you can now effortlessly track the loaded snippets and scripts on any page.
Easily debug Smart Conditional Logic rules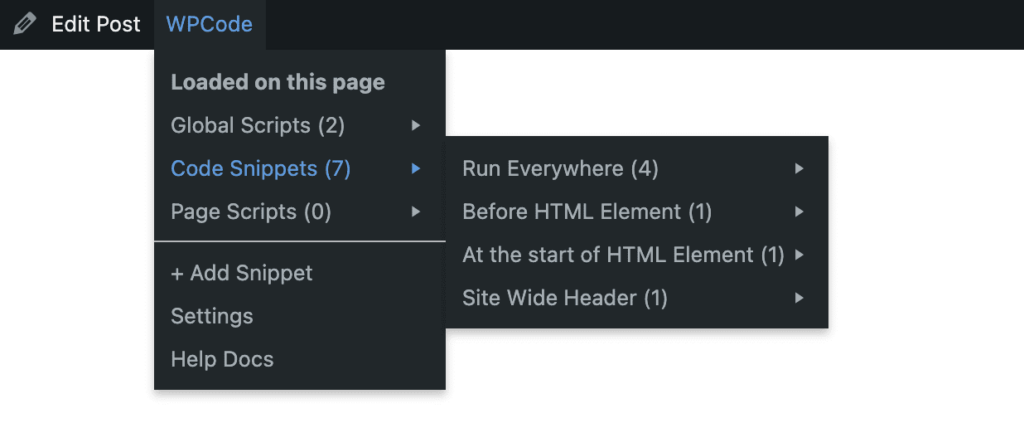 Dealing with complex conditional logic rules in WPCode can be challenging, especially when loading hidden elements or scripts. However, WPCode Admin Bar Code Spotter, introduced in version 2.1.0, changes the game.
Now, you can instantly see the snippets loaded in the frontend of any page directly from the admin bar. No more sifting through browser inspectors or page sources; it's all at your fingertips!
Global Scripts vs. Page Scripts Made Clear

Sometimes, you need both a global script and a page-specific script. That's where the Admin Bar Code Spotter shines! You'll easily spot the locations where Global Scripts are added, identify Page Scripts that override them, or find where page scripts extend the global ones. Managing and updating scripts has never been more accessible – just one click away!
Optimize Performance with Ease
Boosting your site's performance can be challenging when you encounter ambiguous reports suggesting script deferrals or removals. But fear not! WPCode Admin Bar Code Spotter simplifies the optimization process. Instantly view all loaded scripts within the context of the page you're improving. No more hunting through menus; everything is right there, allowing you to make informed decisions effortlessly.
Enable/Disable the Admin Bar Menu

We understand that every user has unique preferences. With WPCode Admin Bar Code Spotter, you have the freedom to toggle the Admin Bar Info setting directly from the WPCode Settings. Disable or enable the admin bar menu as you please, customizing your WPCode experience to suit your needs.
If you have any questions, suggestions, or feedback, please don't hesitate to reach out. We are committed to continually improving WPCode and providing you with the best tools to elevate your WordPress experience.
Yours truly,
Mircea Sandu
Lead Developer, WPCode