Have you ever wished that there was a way to insert code snippets anywhere on your WordPress site regardless of the theme or plugins you are using?
Well now, IT IS possible!
With the latest version of WPCode (2.0.9), you can easily target any element on your website using CSS selectors.
This feature has been highly requested by our users, and we're thrilled to finally make it available to you. Using WPCode's new CSS selector insertion feature, you can seamlessly add your code snippets to your site and keep a consistent experience for your users.
And the best part is this feature is fully compatible with caching solutions which means that your site's performance will not be affected by the output of your snippets and no frontend JavaScript is needed.
Some examples of how you can use this feature to grow your site are:
Display Ads anywhere on the site – just pick the element you want to target and insert snippets using code snippets to load the ads content
Highlight promotions and control output in a single place – combined with the snippet scheduling feature, you can promote offers anywhere on your site.
Load snippets only if a certain element is present on the page – because the snippet will only be inserted in relation to a specific element you can use it to take conditional snippet loading to another level.
Redesigned Auto-Insert Location Picker
But that's not all, the new WPCode version also includes a redesigned auto-insert location picker to make it easier for you to find the right location for your snippets.
The new design makes it easier to see available options with more details about each location.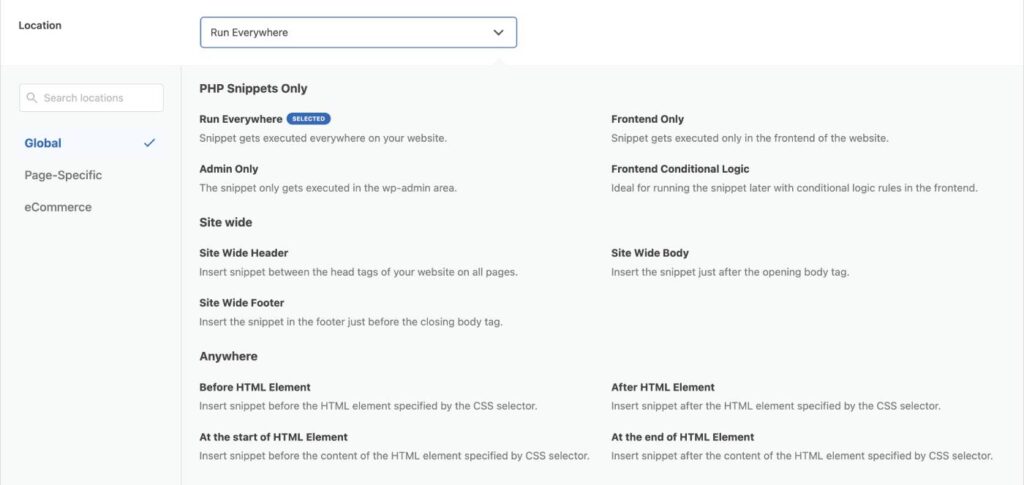 As always, we are committed to providing you with the best tools to enhance your WordPress experience. We believe that this new feature will take your site to the next level, and we can't wait to see the amazing things you'll create with WPCode.
Thank you for being a part of the WPCode community.
Yours truly,
Mircea Sandu
Lead Developer, WPCode